Flexible circuits (also variously referred to around the globe as flex circuits, flexible printed circuit boards, flex print, flexi-circuits) are members of electronic and interconnection family. They consist of a thin insulating polymer film having conductive circuit patterns affixed thereto and typically supplied with a thin polymer coating to protect the conductor circuits. The technology has been used for interconnecting electronic devices since the 1950s in one form or another. It is now one of the most important interconnection technologies in use for the manufacture of many of today's most advanced electronic products.
In practice, there are many different kinds of flexible circuits, including one metal layer, double-sided, multilayer and rigid flex circuits. The circuits can be formed by etching metal foil cladding (normally of copper) from polymer bases, plating metal or printing of conductive inks among other processes. Flexible circuits may or may not have components attached. When components are attached, they are considered by some in the industry to be flexible electronic assemblies.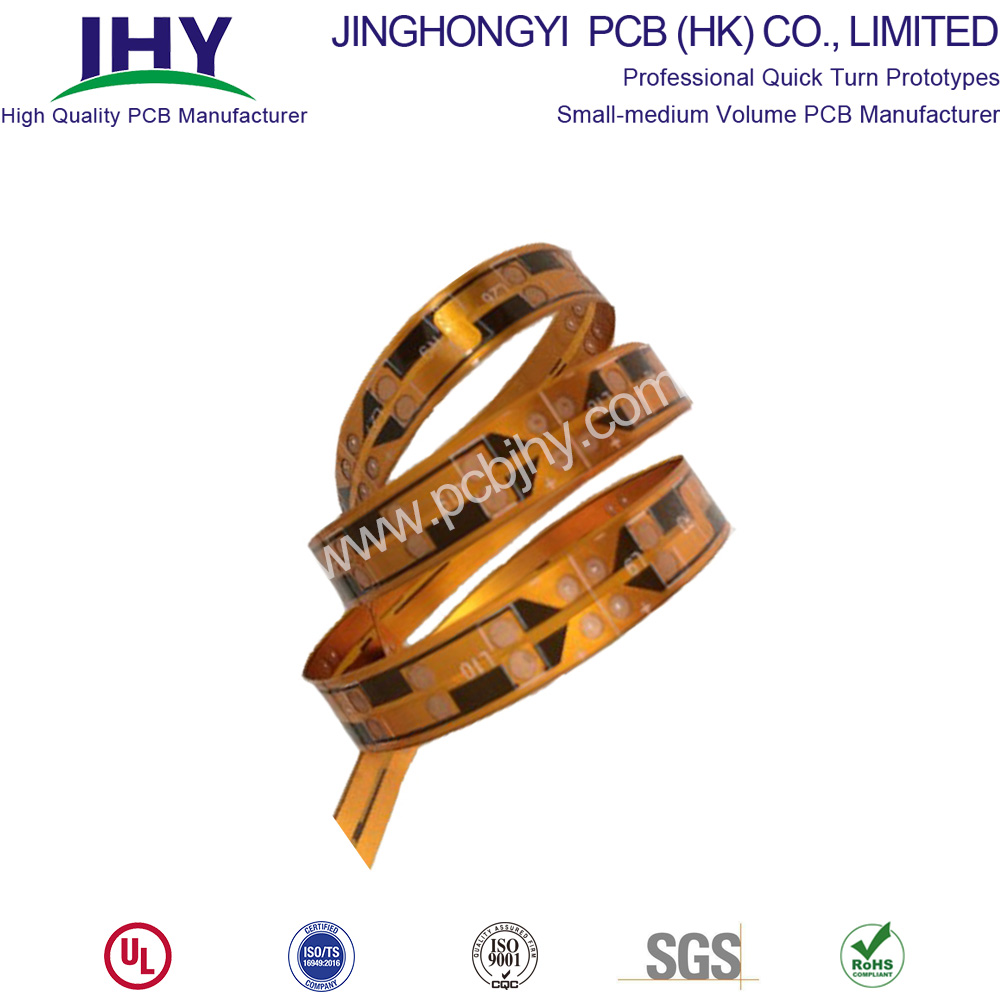 A Flex PCB or FPCB is a patterned arrangement of printed circuitry and components that utilize flexible based material with or without flexible overlay. These flexible electronic assemblies may be fabricated using the same components used for rigid printed circuit boards, but allowing the board to conform to the desired shape (flex) during its application.
Flexible PCB Advantages
There are many advantages that come with using flexible circuit technology beyond the initial flex capabilities. Performance advantages, such as, dynamic flexing and increased heat dissipation allow engineers to design these circuits into applications where extreme temperatures and vibrations are common. Other advantages with using flexible circuits include less weight, increased package density, and more integrated design. Flexible circuits can cost less than traditional assemblies because one flex assembly can replace several, single circuits.
Flex circuits also allow design engineers to utilize space three-dimensionally which cuts down on the overall footprint of the circuit and saves space.
The primary benefits of flexible circuits compared to traditional cabling and rigid boards include the following benefits listed below.
Flex boards benefit also include:
Reduced wiring errors

Elimination of mechanical connectors

Unparalleled design flexibility

Higher circuit density

More robust operating temperature range

Stronger signal quality

Improved reliability and impedance control

Size and weight reduction
Flexible PCB Applications
Applications of flexible circuits range in a variety of fields. Flexible circuits are used in cell phones, LCD televisions, antennas, and laptops. Flexible circuits have evolved and help provide durability and reliability. Flexible circuits are also used in the aviation field. Other applications of flexible circuits are in hearing aids, calculators, cameras, printers, and in satellites.
FPCBs are used widely in everyday technology and electronics in addition to high-end, complex completed components. A few of the most prominent examples of flexible circuits usage is in modern portable electronics, devices, hard disk drives.
Flexible circuits are also used extensively in other applications and industries including:
Communications

Consumer Electronics

Automotive

Medical

Industrial

Aerospace

Military

Transportation
In transportation, they are extensively used due to their improved resistance to vibrations and movement.
Our Capabilities
Learn more about JHY PCB by exploring the manufacturing capability of Flexible PCB below. We can do more than you can imagine.
Gold fingers Stiffene
Items

Manufacturing

Capability

PCB Layers

1 - 8layers

Laminate

DuPont PI, Shengyi PI

Maximum PCB Size(Length x Width)

Single Sided PCB

480*4000mm

Double Sided PCB

480*1800mm

Multilayers

236*600mm

Minimum Board Thickness

Single Sided PCB

0.05mm+/-0.02mm

Double Sided PCB

0.08mm+/-0.02mm

Multilayers

As per Gerber

Finished Board Thickness

1-6L

0.05mm-0.6mm

8L

1.6mm

Min Tracing/Spacing

Copper Thickness 1/3 oz:

0.076mm/0.076mm (1-6L)

0.05mm/0.05mm (8L)

Copper Thickness 1/2 oz:

0.076mm/0.076mm (1-6L)

0.06mm/0.06mm (8L)

Copper Thickness 1oz:

0.1mm/0.1mm (1-6L)

0.065mm/0.065mm (8L)

Min. Annular Ring

4mil

Minimum Hole Size

1-6L

0.2mm(8mil) (CNC)

8L

0.15mm(CNC)

Solder Mask Color

Green, White, Blue, Black, Red, Yellow

Solder-stop coating---Coverlay

PI and PET film

Silkscreen Color

White, Black, Yellow

Surface Finish

OSP

e HASL

ENIG(Electroless NickLead-Freeion Gold)

Ni thickness:2-6um

Au thickness:0.025-0.05um

Flash Gold

Ni thickness:2-8um

Au thickness:0.025-0.15um

Immersion Tin

Tin thickness:0.5-1um

PlatingTin

Tin thickness:1-10um

Laser cuPunching

Special technologies

Peelable solder mask

r (only for The stiffenerbstrate)

Impedance Control+/-10%

Rigid Flex PCB
We can turn your flexible PCB manufacturing order in as quick as you wish.